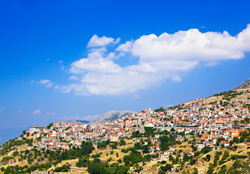 Arahova is a picturesque village clinging on a mountainside approximately 12 km from Delphi on the road to Athens. The healthy and invigorating climate at 980 meters above sea level makes Arahova an ideal retreat from which you can reach the famous archeological sites of Delphi within 5 min. The village boasts excellent red wine and beautiful hand-woven fabrics. During Easter, the village celebrates with a festival of eating, drinking and dancing plus an entertaining footrace of senior citizens up the village hill while the lambs roast on spits in their courtyard.
Named from the village in their native land of Greece, Arahova first came to Montréal in 1971, as one of the first local eateries to specialize in Greek dishes. What started out as a tiny café and lunch stop by Christos Kalogrias (founder of
Arahova Souvlaki Restaurants
), has since grown into a local landmark regularly singled out in contests and restaurant guides for its souvlaki. The secret, you ask? Christos Kalogrias insisted on quality, freshness and consistency, this is what has made Arahova what it is today.
Following the great success at Arahova Souvlaki Restaurants and with the help of his son, George Kalogrias (Vice-president / Director of Sales), in 1993 we expanded to the
retail sector
with our specialty dips and prepared meals. It was through the high consumer demand of our products that helped us expand and offer sauces to local grocery stores such as our famous "tzatziki sauce" which has won numerous awards. Also available, "Tzatziki Light", which holds 50% less fat than our regular tzatziki but delivers the same great taste for those health conscious consumers. In addition we also offer selected sauces such as our "Taramosalata", a traditional Greek dip of red caviar with potatoes, and "Skordalia" a garlic based dip. Our newest addition is an excellent Greek "Spinach Dip" made with a hint of garlic. All of these sauces are excellent party favorites as they can be served with pita bread, vegetables or with any potato chip or cracker. They are also great side dishes for main courses.
The organization has further been supported with the help of his son George Kalogrias (Vice President) and daughters Tina Kalogrias (Director of Marketing) and Bia Kalogrias (Regional Manager). The inclusion of the Kalogrias family as an integral part of the franchise has contributed to the unprecedented quality of dining and high value placed upon the customers, who are treated like an extension of this growing family.
Christos Kalogrias
Founder/President